Why choose Sun Line?
Sun Line Roller Shutters are a proudly 100% Australian owned window shutters company.

We are a family business and have been in operation over 30 years and pride ourselves on the quality service and products we deliver. We manufacture all shutters locally in our factory and have complete control over the quality of product we install. Our products have exclusive features including dual system (manual and electric) operation, smooth operating roller entry guides, strong 8mm driving cable and smoke alarm sensor. We also offer easy payment options allowing you to install your shutters today and fit in within your family budget. *No deposit (conditions apply).
Recognised as the Number 1 in trade and services in 2003 Brimbank Business Awards, our service is friendly, professional and prompt.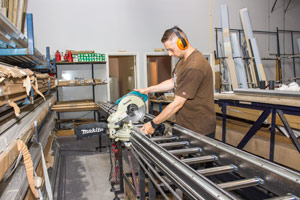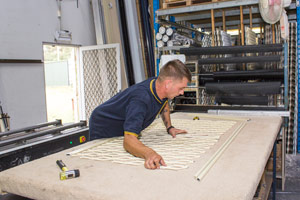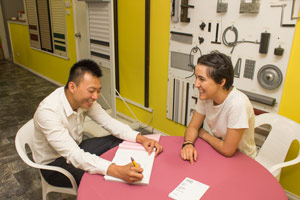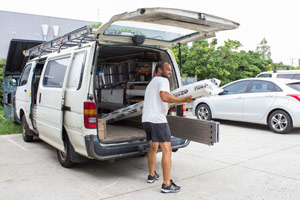 Testimonials
Mary thanks for the great work that was done on the installation of our shutters. The quoting & workmanship was all done by helpful & friendly workers.  Thank you all once again.

E. Ferronato

I was absolutely blown away by the father and son Team that came to my home to install the shutters and Security doors these two guys were amazing so quick precise and so professional, just loved them both, you have a very very capable team with these two gentlemen, then the Sparkies turned up and proceeded to install my electric switches, once again so swift and so professional and all staff were so kind and courteous.

These guys worked as one a very successful organisation, beyond belief of which I have never ever seen in my life except in the Defence Forces.

Please pass on my absolute thanks to Father and son and the two sparkies (electricians) involved in the job located at my home.

Once again thank you very much for your most competitive price found in Victoria of which I had quite a few quotes for similar work and at least double the cost to your work.

All the very best to your guys out in the field and Tony whom first arrived at my home to discuss all possibilities available to me and never budged when I changed my mind twice, he was always polite and courteous and sooo professional, a true gentleman, thanks Tony.

Well thank you SUNLINE I will recommend you to everyone that I am able to, no problem.

D. Grande

'I would like to give you some feedback regarding the installers, they were just fantastic. Very nice people and did a great job. The electrician's (I'm sorry I can't remember their names – but they were great guys!) and Tony were also fantastic. Overall excellent customer service and done so quickly which I cannot express how much this meant to us and how much we appreciate the prompt service. After being robbed we were left feeling incredibly vulnerable and scared. Whilst I think its going to take some time for these feelings to abate (if ever), having the roller shutters and stainless steel mesh screens certainly help us feel a bit more secure.

Thank you so much, and we will be sure to recommend you guys to anyone thinking about roller shutters, screens etc… in fact, I believe our neighbour is getting a quote from Tony today!  Take care, and thank you.

S. Hiddle

It's been a year now since you installed my shutters and I have been extremely pleased with the E2E service. From sales with Tony and installation. I just love the quality of the shutters and on the 2 occasions I called to have some minor adjustments made, there were no issues.  Sunline went out of their way to get the colour I wanted…particularly as it was not a common colour. As a result of this I didn't have to settle for a different colour I didn't really want.

The lady who answers the phone is always so helpful and pleasant and I cannot go past acknowledging her as well (sorry I dont know your name).

Great company, great service…peace of mind. Thank you!

A. Bragaglia

Workmanship was great, quality and cleanliness was exceptional. I would certainly recommend your business.

M. Harris

Customised roller shutters that are measured and produced to fit your door and window frames smoothly and completely offer attractive, secure coverage. With advanced dual system open/close mechanisms with a durable 8 mm. drive cable, your shutters will roll seamlessly from the open to closed position with low friction.

The auto-operating system for your shutters has a convenient remote control device with unique features like a timer and preferred position setting. All electrical work during shutter installations is handled by a well-qualified electrician, and each shutter is structured to include roller entry guides for superior long-term operation.

Benefits of Installing Door and Window Roller Shutters for Your Home

You will gain valuable benefits when you choose to install door and window roller shutters to protect and enhance your home, such as the following:

• Varied Roller Shutter Types. – You can select manual, electric or solar shutters for installation on your home doors and windows, and all full service suppliers of roller shutters will also replace or repair damaged or old shutters. You can request shutter designs that operate with a switch, remote control or manual regulation. If you prefer, ask for the device that combines all three of these operating options, for your convenience. Especially by selecting the solar powered control option for your door and window shutters, you will be reducing energy consumption and supporting countrywide eco-friendly efforts.

• Safe, Low-Cost Energy Use Reduction. – By installing cost-effective and efficient solar roller shutters on the windows and doors of your home, you will also save money by reducing your bills for energy consumption. The well qualified electricians completing your shutters installation or replacement will provide a Certificate of Electrical Safety for your records. You can be assured that all aspects of your shutters installation is safe and efficient, designed to ensure you of many years of continuous good use of your technically advanced, functional and durable roller shutters.

• Attractive Modern Window/Door Protectors. – Your new, attractive, modern roller shutters will cover and protect your home doors and windows during severe storms throughout the year. No need to worry about shattered glass from flying debris, sleet or hail. They will insulate your home's interiors from extreme heat in summer and frigid temperatures during winter. Since they are available in a wide array of colour choices, you can enhance the exterior facade of your home with appealing, colour-coordinated shutters.

When you consult our experts at Sun Line Roller Shutters with locations in Kealba and Epping and serving the entire Melbourne area, you will receive finest caliber advice, information, shutter selections and full installation services for your home. All the rooms of your house will stay cooler in summer and warmer during winter, with strong shutter protection against window or door damage during harsh, blustery weather conditions.

With reduced energy consumption, you will save funds to use for other purposes. Your attractive new roller shutters will brighten and enhance your home's exterior decor for significantly greater curb appeal and increased market value.

Benefits of Having Doors and Window Roller Shutters

Windows present certain issues for houses that homeowners must address to feel completely comfortable and safe in their home. While you may enjoy looking out of your windows to admire your yard and the surrounding area during the day, you may wish to have complete privacy in the evenings or while you are away from home for security purposes. There is an ideal way to accomplish both with the right window enhancement, namely exterior window shutters. If you are not sure how to find the ideal ones for your house, refer to the tips below to learn how to choose these window enhancements.

Exterior Window Shutters Should Be Custom Made to Fit Your Windows

In order for the exterior shutters to fit your windows to perfection, you should have them custom made. This way, they will attach to your windows in the ideal fashion.

Select the Colour That Best Suits Your House

Always ensure that the colour of the shutters complements your house in an eye-pleasing way. Otherwise, the shutters will decrease the curb appeal of your house. People will cringe when they approach your house rather than admire it.

The Shutters Should Be Automated and Operate Smoothly 

For convenience sake, you may want these shutters to be automated with the option of manual control in case of a power outage. It should be a joy to open and close these shutters not a dreaded task.

Window Shutters for the Exterior of Your Home Need to Be Durable

All exterior shutters for the windows need to be of durable construction and materials. Remember that they will need to endure all types of weather. Also, any mechanical parts should be just as long lasting. For fire safety reasons, your automated exterior window shutters should have a smoke sensor that detects smoke in the house and signals the shutters to open immediately.

All Electric Work Has to Be Performed by Professionals

Any electrical work that is necessary to install these shutters should be skillfully performed by professionals. The last thing you need is wiring issues that may lead to more serious problems.

Exterior Window Shutters Need to Help Insulate Your Home 

One other feature to look for in exterior shutters for your windows is that they are constructed with materials that insulate your home. They should help keep your house cool in the summer and warm in the winter.

Consult with Sun Line Roller Shutters to learn additional information and tips in choosing exterior window shutters for your house in Melbourne. We specialise in custom-made exterior roller shutters along with offering security doors, flyscreens and grilles. Our company also provides service and repair for your existing shutters along with spare parts.

Tips in Choosing Exterior Window Shutters When You're Living in Melbourne

Today, many homeowners in Australia are discovering the benefits of exterior shutters for their homes. Not only do they provide the utmost of privacy and protection for a home, but they also can help the house stay cool in the summer by blocking the sun's rays. If you are considering these shutters for your house, you may or may not know that they come in both electric and solar versions. While you may think that both are equal, one may be better for your specific location than the other one. Let us explore both options a bit further to help you make up your mind which to select for your home.

Solar Shutters Requires Special Placement to Operate Correctly 

One advantage of installing solar shutters on your house is the fact that they receive their power from the sun and will not increase your power bill. Either the shutters will have their own solar collection system built in, or they will run off a home's solar system. If they come with their own systems, they work more effectively on windows that face west or south than the ones that face east or north. Also, you cannot have awnings above the windows or trees shading the house. These drawbacks will have a major influence on whether or not these shutters are right for your house. On top of this, even if the shutters are tied into your home's solar system, there are times that the weather is not ideal to provide all of the power necessary to add these shutters to the system.

Electric Shutters Will Work Reliably 24/7 

In comparison to solar shutters, electric shutters work reliably 24/7 since they run off your home electricity. It does not matter which direction that the windows face.

Electric Shutters Allow Design Flexibility with Other Exterior Elements

Along with performing reliably, electric shutters off you flexibility with your exterior design options. You can have awnings over your windows without hindering their ability to operate properly. In addition, you can have trees shading the house since you do not need to worry about collecting solar energy to power the electric shutters. They also come in a wide assortment of colour options in order for you to match your house's colour scheme in an ideal fashion.

To learn additional facts about electric and solar shutters, consult with Sun Line Roller Shutters. We specialise in customised roller shutters that are made according to your exact specifications and colour preference. Also, our shutters operate smoothly thanks to friction reduction. Our shutters contain an exclusive dual system that allows for both manual and electric operation.

Electric or Solar Shutters: What Should You Choose for Your Home?

Adding window roller shutters to your home or business can be a great decision. Roller shutters offer a wide variety of benefits over conventional shutters such as additional privacy and security. With that being said, roller shutters are just uncommon enough that many individuals do not know how to make sure that they are properly maintained. Today, we are going to look closely at a few maintenance tips in order to help you keep your roller shutters functioning at a high level for a long, long time.

Maintenance Tips for Your Window Roller Shutters 

Window roller shutters come in a wide variety of shapes, sizes, and colours. No matter what your goal is with roller shutters, whether it be for purely visual reasons or security reasons, you need to follow a certain set of maintenance tips in order to keep the shutters operating at maximum effectiveness. With proper maintenance in place, you can expect your roller shutters to continue working for as long as you want them to. Despite their being billed as relatively maintenance-free, here are a few habits that you should probably get into.

1) Keep the Bottom Bar Clean

If you've ever cleaned a window sill, you know how dusty and dirty this part of your home or business can get. With roller shutters, you need to pay extra attention to any potential buildup along the bottom tracking bar. Keep dust and debris out of this bar or else your roller shutters won't properly lock into place.

2) Wash the Roller Shutters

You don't want to get into the habit of allowing your roller shutters to accumulate dirt or debris. Instead of letting your roller shutters be ignored, make sure to schedule some sort of wash every three or four months. Take water and a mild soap solution and mix the two together. Use a soft brush and carefully scrub away at your shutters.

3) Keep an Eye Out For Bugs

Roller shutters are excellent at keeping out prying eyes and light, but they are also great for keeping bugs hidden away from your careful eye. Wasps love to make nests in the corner of roller window shutters, so keep an eye out for them during the hotter months of the year.

4) Lubricate When Necessary

Depending on the type of rolling shutters you buy, you might need to get into a greasing routine. Some manufacturers use self-lubricating bearings while others require you to coat the bearings in oil once or twice per year. Check with the manufacturer in order to see which kind of shutters you have in your home and then follow the appropriate steps.

General Maintenance Tips for Your Window Roller Shutters

When you pull into the driveway of your home, the first sight that you see is what we consider your 'curb appeal'. This is the first impression that most visitors will get of your home. While we don't particularly care what the average stranger thinks of our home, we do care that it looks good for our own peace of mind. The first place that most people affix their eyes to is the front door. The front door to your home tells a small story about everything that goes on inside of the building. So, what better than to make sure that the story your door tells is a good one? Today, we are going to be discussing the benefits of stainless steel mesh when used on the front door of your home.

Stainless Steel Mesh: Applications & Benefits

When we talk about stainless steel mesh, your mind probably goes to Arthurian tales of knights wearing shiny armour. Let's get this out of the way quick: that isn't what we are talking about. Instead, we are talking about finely crafted stainless steel mesh that is used as a screen for your front and back door. While this may sound odd to some, stainless steel mesh as a door accouterments is becoming very trendy. Why? That's a great question. Let's first knock out what stainless steel mesh actually is used for.

1) What does stainless steel mesh do?

Stainless steel mesh is used in a variety of different industries, from agriculture to construction, but our purpose has more to do with the decoration and improvement of the front door of your home. Made of finely woven metal, stainless steel mesh screens are typically installed in front of an exterior facing door.

2) What are the benefits of installing stainless steel mesh screens?

The most obvious reason to install stainless steel mesh screen is simple: security. Finely woven, high-quality stainless steel mesh can add an immediate amount of security to the front door of your home. Rather than a cheap screen door, you are presenting something of a fortress to visitors. Additionally, stainless steel mesh can be designed to be VERY aesthetically appealing. Having aesthetically appealing screened mesh doors can improve both the curb appeal of your home and the overall outlook of the property.

3) Who should consider adding a stainless steel mesh to their home?

Anyone who is interested in improving the security of their home or the visual appeal of their home.

Here at Sun Line Roller Shutters, we are a proud family-owned business that is completely committed to providing you top-quality, affordable services. We've been serving customers in the industry for over 30 years and are more than happy to help you with your next project.

Stainless Steel Mesh: Functions and Purposes for Your Home

How much time have you spent genuinely considering the role that your window shutters play in the security and comfort of your home? The odds are pretty good that you've barely ever even considered the idea. We're here to discuss why you should probably take a closer look at using your roller shutters as a protective measure against potential crime and other issues that are common in our day to day lives. Let's go ahead and lay out the various benefits of roller shutters while focusing on their role in protective capacity for your home or business.

Roller Shutters – Protection & Security for Your Building

When we drop the term 'roller shutters' your mind probably drifts straight to the rolling cages that you see on storefronts and at the mall. While this isn't exactly what we are talking about, the comparison is good enough to get you an idea as to the direction that we are going with this conversation. Roller shutters have long been lauded for their aesthetic appeal and energy saving efficiency, but they also provide a host of protective benefits to your home in a more secure fashion. Let's go ahead and outline these benefits below!

1) Reduce Visuals into Your Home – We're going to lead off with what we believe to be the most beneficial way that roller shutters impact your home security. Roller shutters work to completely block out any 'peeping toms', so to speak. People outside of your home will be incapable of seeing what you and your loved ones are doing.

2) Layer of Protective Obstruction – Most window shutters are little more than painted plastic and, as such, they are swiftly pushed aside by people who are seeking to break into a home. With roller shutters, however, you can add a layer of real protective obstruction. Roller shutters are flexible enough that you can get options that are thick and durable, protecting your windows with another layer of strength and durability. These sturdy roller shutters are excellent at keeping you more secure.

2) Reduce Noise Pollution – Finally, your roller shutters will help to protect you from noise pollution outside of y our home. Roller shutters are durable and help to insulate your home due to the thick materials that they are made of. A quiet home is a happy home and it never hurts to keep those outdoor noises, well, outdoors.

As you can see, there are many protective reasons to consider adding roller shutters to your home or business. Call Sun Line Roller Shutters of Melbourne today in order to discuss installing them on your property.

How Roller Shutters Can Provide All Around Protection

Shutters are a highly effective and attractive way to ensure privacy and security for your home. Also, they allow you to control the amount of light that you let into your house at different times of the day. If your present shutters operate manually, though, you seriously may consider converting them over to electric. This conversion does not take long when a professional performs it, and it offers you the following benefits.

Eliminates Unsightly Cords When Desirable

Unless you want the dual ability of manual and electric operation, this conversion can do away with unsightly cords. This may appeal to you when you have young children since they will not become tangled in the cords while playing. Also, cords are not an attractive enhancement for your room for the most part.

You Can Operate the Shutters With Just a Touch on the Remote

Another benefit of converting manual shutters to electric is the fact that you can operate them with just a touch or two on the remote control. There are various functions on the remote, so that you can fine tune the position of your shutters to suit your needs.

Adjustments in Settings Are Possible from the Comfort of Your Chair or Sofa

The remotes are strong enough to operate the shutters from the comfort of your sofa or chair, and any other part of the room that you may be in at the time. You quickly appreciate how convenient this benefit is once the conversion is complete. No more will you need to interrupt a conversation, your reading or other activities just to walk over to the windows to adjust your shutters. With a few clicks on the remote, you can accomplish the adjustment while still enjoying your activity at the time.

Certain Functions Can Be Preset

In addition to the above benefits, certain functions can be preset to control the shutters at a specific time of day. Examples include that you can preprogram the remote to close the shutters at night and open them at the same time each morning. Remote systems do vary some with this, though, so check with the professionals who perform the conversion for you to learn all the functions in your remote system for your electric shutter conversion.

Turn to Sunliner Roller Shutters for further facts about the benefits that you will receive by converting your shutters from manual to electric. We specialise in these conversions, shutter repair services, installation of new custom roller shades and more. Since we design and manufacture our own line of shutters, we also carry a wide variety of parts for sale in our Epping and Kealba showrooms.

Benefits of Converting Your Shutters from Manual to Electric

For most people, there are approximately two times that they pay attention to the quality of their window shutters: when they install the shutters and when they replace them. Most people don't engage in proper upkeep with their window shutters which means that they might end up using the shutters for long past their expiration date. When does a window shutter expire? That's a great question and one we are eager to answer for you. Today, let's break down the key symptoms that indicate that you need to replace your window shutters.

Replacing Your Window Shutters – Key Signs and Symptoms 

Whether you have beautiful mahogany window shutters or simple beige plastic ones, you probably want to know that they look good and are in pretty good shape! With that being said, sometimes time gets away from us and our focus wanders and before you know it, it is time to take down the shutters far after they have quit being aesthetically pleasing and effective. Here are the key signs that you can look for that can trigger an on-time replacement for your shutters.

1) Operational Difficulty – At some point in all of our lives, we've had to deal with shutters that simply didn't want to cooperate. We're not talking about shutters that are simply complicated, we are talking about shutters that are broken down and have a tough time simply being drawn or closed. Sign #1 that you need to replace your window shutters.

2) Broken Or Scarred Slats – Window slats that show signs of wear and tear are almost always ready to be replaced. Whether these scars were accumulated from rough usage by pets and children or were merely beaten up over time, pay attention to potential issues.

3) Discoloured Appearance – One of the simplest and easiest to spot problems with your window shutters is discolouration. Over time, sunlight can bring damage to your shutters and cause them to start to lose their colour. Whether your shutters are starting to fade or simply become splotchy with discolouration, this is probably the first sign that you'll notice. When you go to replace discoloured shutters, you might want to look for special UV-resistant shutters as a possible replacement idea.

Your window shutters are an essential part of making your home attractive to the outside world. Additionally, it never hurts to enjoy the aesthetically pleasing nature of your shutters for your own sake. If you are considering replacing your window shutters, use the signs and symptoms we highlighted above as a guideline for deciding whether or not it is time to make a purchase!

Signs that Show Your Window Shutters Need Repair

Many property owners are now choosing to use roller shutters for their homes and businesses because of the many benefits these offer. While there are different roller shutters available, such as roller shutters for doors and windows, as well as electric and solar powered roller shutters, the main benefit they offer is their protective capacity.

Other benefits of using roller shutters include aesthetic appeal and energy saving efficiency, by blocking out ultra violet rays from the sun. Roller shutters are also a great way to increase privacy by reducing the view into your home from the outside, reducing noise pollution, and adding a strong protective barrier to secure windows and doors from forced entry attempts.

Spare Parts and Tools for Roller Shutter

Roller shutters have been around for a while now. Many homes and businesses still have manually operated roller shutters, and while these are still functional, as time passes, like all mechanical things, they need to be maintained and repaired more often.

In fact, older manual roller shutters can be difficult to open and close as they age and may require replacing spare parts such as springs, cable winder boxes, and box end inserts. Instead of wrestling with trying to open and close manual roller shutters, many property owners are opting to upgrade them by converting to a 12 volt battery operated system that uses either ods l10 mech or the T20 mech motor. Converting to a 240 volt electric Somfy motor system is also possible.

Electric roller shutters can still be opened and closed manually, or you can operate them with a remote. The luxury of being able to open and close your roller shutters, without physically having to go outside and open and close them by hand, is what makes them so appealing. And anyone can operate them, even children and the elderly.

Maintaining manual and motorised roller shutters as they get older can be problematic, especially if one cannot locate a supplier of different roller shutter spare parts and tools. Thankfully, there is a company in Melbourne that has a complete selection of different roller shutter spare parts and tools available – Sun Line Roller Shutters.

At Sun Line Roller Shutters, we not only have a complete range of different roller shutter spare parts available, but we also have all the tools necessary for those who don't have roller shutters yet and want to install them.

DIY roller shutter parts and tools include: 10mm wall anchors, 140mm or 170mm Springs, 14mm tape for roller shutter, winder boxes, wire cable for cable winder box, Craftright rivett gun set, Ozito Hammer drill roller, and all other parts and tools needed to install and maintain manual and electrical roller shutters.

Different Roller Shutter Spare Parts and Tools

Homeowners are more concerned about making their homes secure than ever before with the increase of crime in their area. While they install alarm systems and even CCTV systems in their homes, they overlook the value of the added security that roller shutters provide to homes. Also, these shutters work well with all other security measures. We provide you with additional information about why these shutters are a practical choice to enhance the security of your house in the following details.

Roller Shutters Help Make a House Burglar-Proof

One of the main ways that roller shutters enhance your security is the fact that they help make the house burglar-proof. Intruders will have such a difficult time trying to break through these shutters that they will move onto another house in almost every case. After all, the last thing they want is to get caught in the act.

Shutters of the Roller Design Offer Extreme Privacy 

Another way that roller shutters add to your security measures is the level of privacy that they offer. People passing by your house or would-be intruders cannot see your belongings or actions inside your home when you close these shutters. Instead of broadcasting to all what you own, keep it private and intruders will not be as interested in your house. They will venture to house where they can peer in the windows and/or doors to plan the burglary.

Provide a Fireproof Shield to Your Doors and Windows

Some intruders can become so driven that they will try to set fire to house entry points to gain access. However, if they try that with roller shutters, they will quickly discover their fireproof quality that will foil their efforts effectively.

Roller Shutters Provide Protection for Your House Against the Elements

You can improve your protection from the elements too by installing roller shutters. Rain, snow, hail and the hot summer sun cannot penetrate these shutters, and they also offer protection against heavy winds and falling debris when major storms move into your area. Looters love to search through damaged homes after they have been ravaged by storms when the homeowners need to move out for repairs to take place, so protecting your home and belongings from this type of damage is vital for your overall security.

Additional Benefits Beyond Extra Security 

Roller shutters also enhance the overall attractiveness of your home since they are aesthetically pleasing to the eye. You can choose from a wide assortment of colours options too to ensure that they blend with the rest of your house's colour and design scheme.

Roller Shutters for Added Security: Are They a Practical Choice?

Attractive window grilles installed on the exteriors of your windows will protect your home from attempted break-is or vandalism. The secure strength and stalwart beauty of these modern grille designs will discourage any potential intruders from committing any damage to your property. The powerful steel bars that compose these appealing grilles offer long-term use. They will also prevail during all types of weather conditions, including harsh rain or snowstorms and heavy, gale-force winds.

Installing security grilles on the windows of your home will also protect small children from climbing over window sills and falling, risking serious injury due to their curiosity. With these attractive window grilles protecting your windows, the slender yet extremely strong grille-work will enable youngsters to easily view the scene or activity outside a window without any danger of falls and injuries. With these pleasing grilles in place, you can leave your windows open without fear of causing any harm to the younger members of your household.

More Benefits of Installing Fashionable and Functional Window Grilles on Your Windows

Additional benefits of installing stylish and practical security grilles on the windows of your home include the following:

• Custom Grilles Enhance Curb Appeal. – Your new window grilles can be customised to enhance and align with the exterior decor of your home. These creative grille designs can range from traditional classic to the latest in sleek, contemporary styles. Not only will your new grilles display the classic elegance or modern chic stylistic elements to best complement your home's overall exterior design, but they will also improve your property's curb appeal and increase the market value of your home.

• Modern Grilles Support Full Window Functions. – Attractive and practical window grille deigns of any style today will not inhibit the normal functionality of your windows. Although roller shutters can prevent sunlight and cool, refreshing breezes from entering your home's windows, grilles do not. With your choice of pleasing window grille designs installed, you will gain full protective features of the sturdy grille-work while enjoying plenty of natural light, outdoor scenery and fresh air from your open windows.

• Extra Window Protection Ensured During Storms. – Durable and dependable attractive metal window grilles can protect your windows from airborne branches, objects and debris during harsh storms with blustery winds. These grilles can shield your windows from breakage and prevent damage to the interior furnishings of your home.

When you consult the experts at Sunline Roller Shutters with offices in Kealba and Epping and serving all of Melbourne and surrounding regions, you will receive excellent advice, designs and installation services for your new fashionable and functional window grilles.

Our fine team of window covering professionals will help you select the ideal designs to ensure your complete satisfaction and enjoyment from use of your new highly attractive and practical window security grille styles. You can contact our friendly team today for further information and to select your favorite window grille designs.

Window Grilles for your Home: What are the Advantages?